We are pleased to announce that we have released Backup & Restore feature for our buyers.
Introduction
How many of you have ever messed up your WordPress site by mistake and wanted to restore it back as it was? "Messed up" can be any of the following:
Ruining pages' layout and contents
Editing or deleting WordPress core files
Wrong themes/plugins customizations
Deleting or editing posts
Deleting media files
Deleting database records etc.
Thanks to our new Backup & Restore feature you will never have to worry about any of the above-mentioned cases. In such case all that will take you is just a few clicks and in a minute your website will be back as it was before.
How it works
Backup is one of the most important things for websites. Basically without having a backup, your website is not safe which means you cannot restore it back if something happens to it. Our system makes periodical backups based on the website's plan. Along with Backup comes the ability to Restore the website from a backup point with just a few clicks.
Backup rates per plan
Each plan has a specific rate or number of backups per day and they are as follows:
Small Plan: One backup per day (00:00:00 UTC)
Medium Plan: Every 6 hours (total 4)
Large Plan: Every hour (total 24)
Restore from backup
The backups are made in UTC (Coordinated Universal Time) but their timestamps will be displayed based on your browser's time zone. Our system keeps each backup for 30 days and then deletes it. So users are able to restore their websites to a point up to 30 days in the past.
If you want to restore your website, you will need to do the following steps:
Navigate to your website's settings page and in the block about Backup click See Backups List. The button will redirect you to the website's restore page.
Select a backup point that you want to restore to and click Start Restoring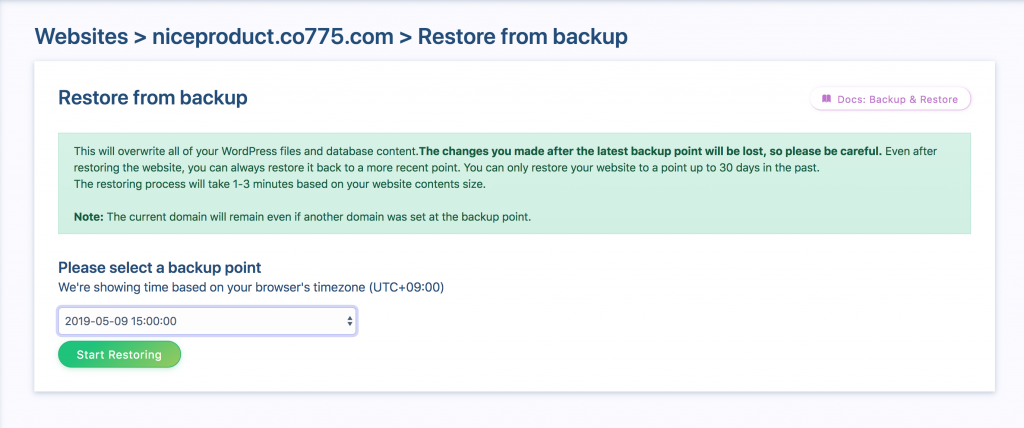 The restore process will overwrite all of your WordPress files and database content. In other words your website will be the way it was at the backup point. The changes you made after the latest backup point will be lost, so please be careful. Even after restoring the website, you can always restore it back to a more recent point. But be careful if you want to restore it back, because the next backup will save the website as it is at the current point. The restore process will take 1-3 mins based on your website contents size.
Note: The current domain will remain even if there was another domain set at the backup point
We hope that this feature will make our buyers feel much safer and happier.
We will keep you posted about ReadyShip updates and new features. See you 🙂