WordPress themes handle your website's design and layout. WordPress doesn't work without an active theme, so it's mandatory to use one, even if you plan to build your website entirely with something else, such as Elementor's Full Site Editing feature.
Fortunately, since WordPress powers over 39% of all websites, the competition is over the roof, leaving you with plenty of places where to find WordPress themes for your website or blog.
And that's what I'm going to show you in this guide. I won't mention all of them, though; only the main ones.
1. ReadyShip – More Than WordPress Themes (Paid)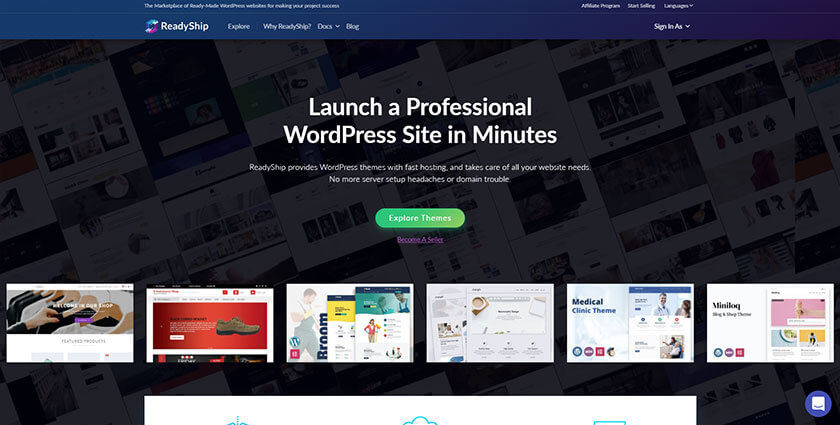 ReadyShip is a unique WordPress marketplace. It allows WordPress developers and professionals to earn recurring revenue from selling their products on the WordPress marketplace, as well as allowing you to get ready-made WordPress sites or blogs.
"Ready-made" sounds good, right? Of course, it does, because when you purchase a plan, you get:
Powerful Managed AWS (Amazon Web Services) hosting;
Free SSL & CDN;
WordPress pre-installed;
A pre-installed and pre-configured theme;
Pre-installed and pre-configured plugins;
Hosting support;
WordPress product support if the seller offers it.
So, you don't only get a WordPress theme, you get the whole shebang. You don't have to wonder what you need, where to find it, and how to set it up. You just need to search on the WordPress marketplace for a website or blog that you like, choose a plan, and start adding content.
A 30-day free trial is included, so you don't have to worry about losing money.
Please note that not all sellers are developers who are selling their own WordPress themes as part of the product. Some are WordPress professionals, such as myself, working with 3rd party themes. If not sure what you're getting, contact the seller.
Looking for an All-in-One WordPress Solution?
ReadyShip offers you ready-made WordPress sites and blogs, plus high-quality managed AWS hosting with free SSL and CDN, at no initial cost!
2. WordPress Theme Repository (Free)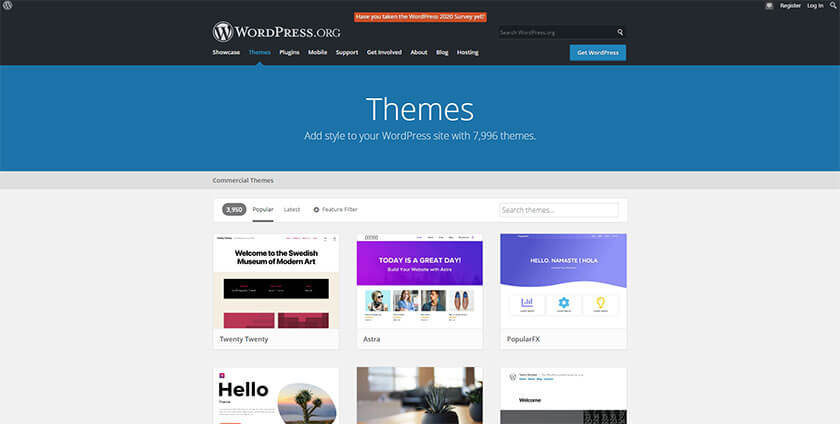 In the WordPress repository, you can find thousands of free WordPress themes. Even though the themes submitted there are reviewed by a designated team, I still don't recommend using free WordPress themes because:
They might not be updated regularly or at all, which can lead to incompatibility or security issues;
They have limited features;
They usually lack documentation and support.
There are exceptions. Some free WordPress themes are well-developed and well-maintained, such as GeneratePress and Astra, which I mention in the next sections. You just need to know what to pick.
3. StudioPress (Paid)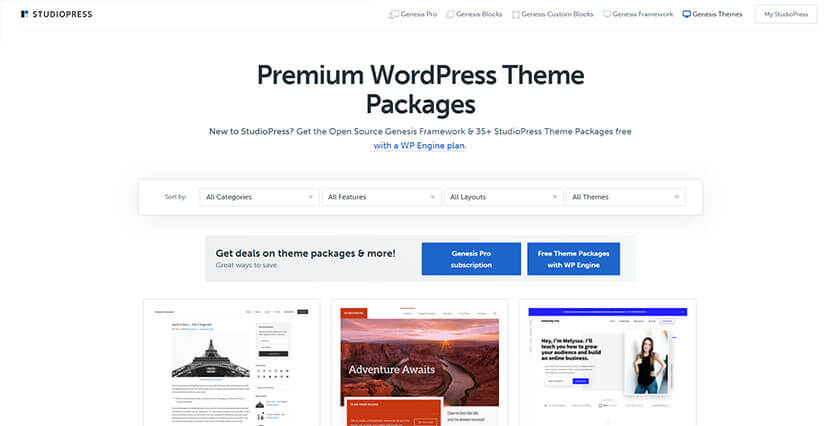 The WordPress themes from StudioPress are based on the beloved Genesis Framework, which is very well optimized and focused on performance.
StudioPress is one of my go-to places to find WordPress themes for blogs. I'm actually using several for my WordPress products on ReadyShip.
They have themes for websites as well, but, for personal projects, I usually prefer another approach. That's because most StudioPress themes are more of a WYSIWYG (What You See Is What You Get) type. They keep them light to offer good performance, so they don't pack them with a ton of features.
They do offer a plugin, called Design Palette Pro, that allows you to customize your design, but it costs extra.
You can also find several WordPress themes with a more feminine design, if I can put it like that. So, that's good news for the ladies who might want to start a personal, fashion, or lifestyle blog. I've seen plenty of veteran women bloggers using StudioPress themes.
StudioPress was bought by WP Engine in 2018, so you can get all the WordPress themes for free if you're going to host your site or blog with WP Engine.
4. GeneratePress (Freemium)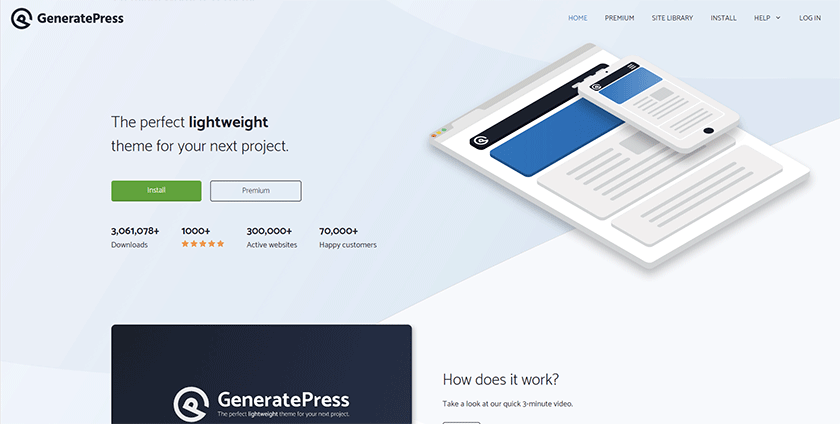 GeneratePress was love at first "site" for me ❤️. It's a single WordPress theme, not a marketplace, and it has both free and paid versions, hence the "freemium" tag. The premium version consists of a plugin, called GP Premium, not a standard theme upgrade.
GeneratePress is my go-to when building WordPress websites, where I pair it with Elementor or GenerateBlocks for less bloat and better performance. I chose it for my blog, WebStoked, as well.
GeneratePress is very light and very well optimized. Even so, it's still flexible, offering you plenty of options to customize both the design and layout. That's why more and more people fall in love with it. It offers the best of both worlds.
The WordPress theme is also well-documented and well-supported on its forum.
5. Astra (Freemium)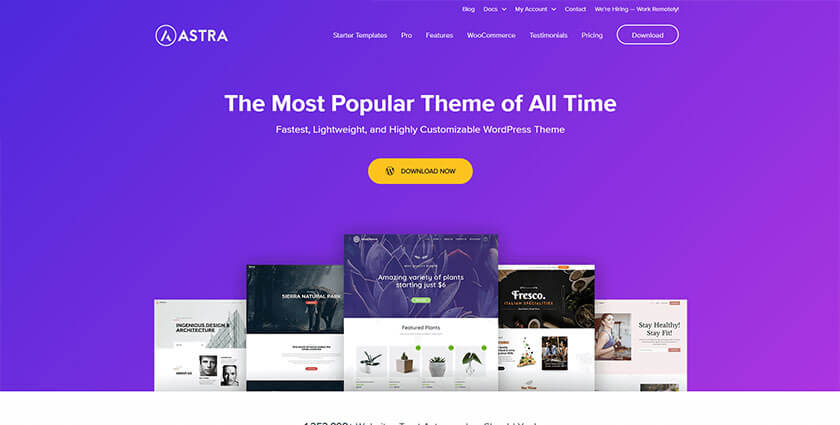 The Astra theme is similar to GeneratePress. It's light, well-optimized, and comes with both free and paid versions, the paid version consisting of a plugin called Astra Pro.
Even though it's the most popular WordPress theme, being the first non-default WordPress theme to reach 1 million active installations, I still prefer GeneratePress. I believe it's better.
Also, I don't know why, but I'm expecting Astra to give in to more and more demands, ending up bloating the theme with features to satisfy more and more users for more profit. It's just a gut feeling.
Anyway, currently, it's a very good WordPress theme and I definitely recommend it.
6. Hello – For Elementor (Free)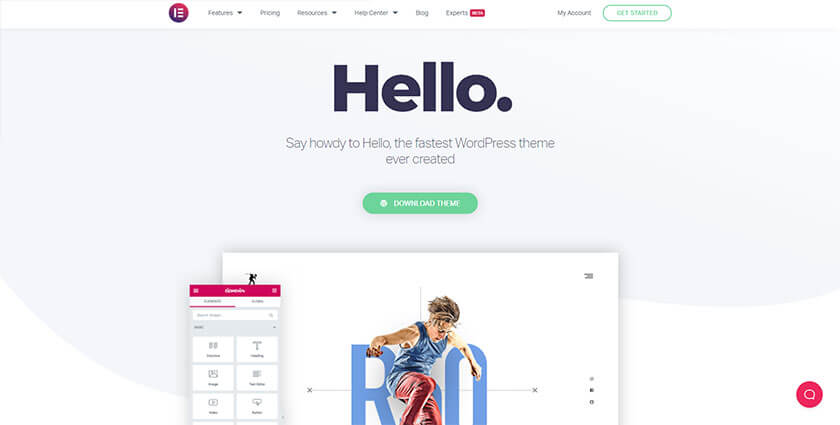 Hello is a WordPress theme designed by the Elementor team, especially for the Elementor page builder, which is a freemium plugin.
This WordPress theme is meant to be extremely light and fast, that's why it's basically a blank canvas where you have to build everything with Elementor, including the header and footer.
Hello is mainly suitable for landing pages, but you can use Elementor's Full Site Editing feature to extend its purpose, such as adding a Blog section.
So, if you're planning to use Elementor a lot for your website's design and layout, I recommend going for the Hello WordPress theme. You'll most likely need to buy one of the premium versions of the page builder, though.
7. WooCommerce – For eCommerce (Free & Paid)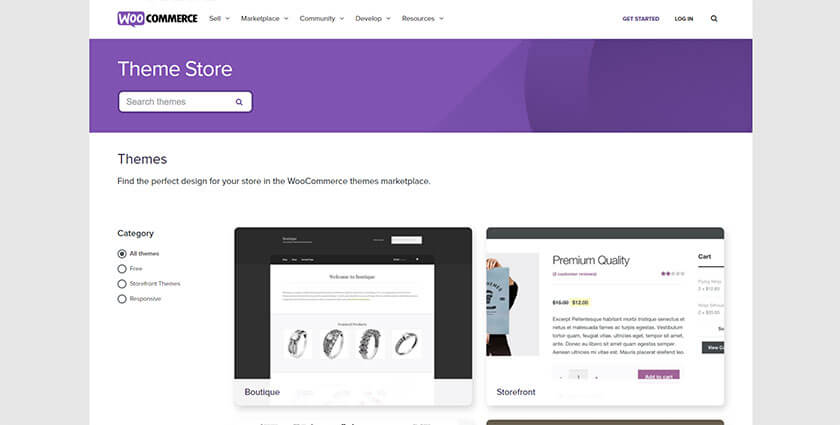 WooCommerce is the most used plugin for eCommerce WordPress sites. Either you're offering physical or digital products, you'll most likely end up using WooCommerce.
Now, even if a lot of WordPress themes are compatible with the plugin, I recommend using a theme from the WooCommerce marketplace.
Why? Better compatibility and support. The WooCommerce plugin updates frequently, so some theme developers might not release an update quickly enough, resulting in minor or major incompatibilities if you update the plugin before the theme.
Also, if you have a problem with your eShop's functionality, and you don't know where it comes from, you might have to contact both theme and plugin developers. And, sometimes, they start blaming each other, and you'll become a ping-pong ball between them. 😀
This happened to me with the Avada theme and WooCommerce Subscriptions plugin. I sent emails left and right for days but still couldn't fix the issue. I had to give up. Luckily, I was able to get a refund for the plugin, which doesn't come cheap.
If you have the theme and eCommerce plugin made by the same developers, then the compatibility will be much better, and you can also get support in one place.
8. Themeforest (Paid)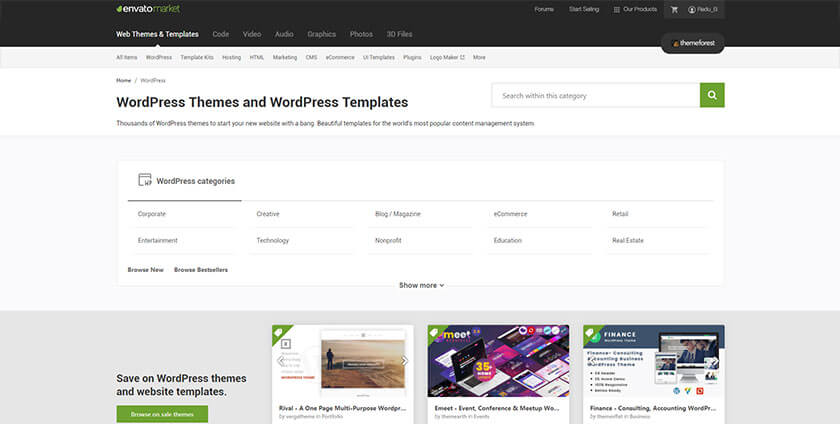 Themeforest is another place where to find WordPress themes. It's the biggest marketplace, with over 11,000 items.
While the WordPress themes are pretty heavily reviewed in order to have good coding standards, the vast majority are bloated with features, which will affect your site's performance.
I know it's hard to resist all those flashy things, but I recommend that you try your best. Performance is very important, so you need to find a balance between performance and eye-catching design.
That being said, unless you need a niche theme (e.g. directory, learning management system, etc.) with specific built-in functionalities, I recommend searching in other places with lighter alternatives, such as the ones pointed out above.
9. TemplateMonster (Paid)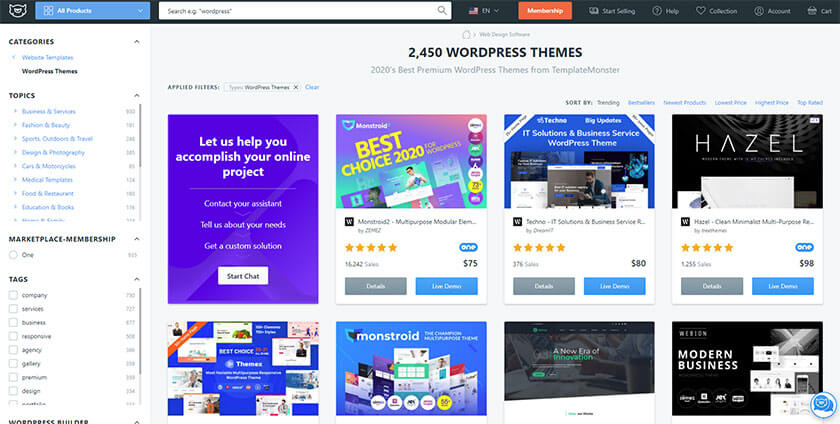 Just as Themeforest, TemplateMonster is another marketplace where to find WordPress themes. It's smaller, though, with over 2,000 items.
Here, as well, you need to resist the flashy things. Many WordPress themes are bloated with features, many of which you won't use. They make a WordPress theme heavy, which affects the performance of your website.
So, as I mentioned for Themeforest, if you don't need a WordPress theme that offers built-in functionalities for a specific niche, then you should look for lighter alternatives.
One thing that stands out on TemplateMonster is that many WordPress themes are built with Elementor, and they come bundled with Jet plugins for Elementor, which offer some additional, interesting widgets for the page builder.
Looking for an All-in-One WordPress Solution?
ReadyShip offers you ready-made WordPress sites and blogs, plus high-quality managed AWS hosting with free SSL and CDN, at no initial cost!
Conclusion
These are just some of the places where to find WordPress themes. There are plenty more. But, no matter where you look, don't forget about performance!
A flashy WordPress website becomes useless if it takes 7 seconds to load, making most of the visitors to click the Back button and never come again.
Just keep in mind that the more features a WordPress theme offers, the heavier it is, the more it will affect your site's performance. By features, I mean stuff like:
Sliders;
Testimonials;
Their own page builder;
Pop-ups;
Events;
Bookings;
and more.
Features like that should usually be plugin territory. In some cases, they do use plugins for features like that, but they don't mention it in the description.
If you have any questions or want to pitch in, feel free to leave a comment.