Since WordPress currently powers over 38% of all websites, you can imagine how much competition is out there for themes, plugins, and web hosting. Everybody wants a piece of the pie.
Having to choose from a multitude of WordPress web hosts can be frustrating because you don't know which one would be right for you and your project.
Luckily, there are several WordPress hosting companies that offer free trials with no credit card required. This allows you to test them before making a commitment and providing them sensitive information.
Types of Hosting – Quick Explanation
Before I start my list, let me quickly explain the difference between the types of hosting that I'm going to mention, so I don't have to repeat the same thing for each web host.
Shared
Shared hosting is the most common and least expensive. That's because your site shares resources with other sites on the server. Think about it as sharing a house with other roommates.
Shared hosting also lacks extra services (e.g. improved security) and performance tweaks (e.g. built-in caching system).
If the WordPress hosting company is good overall (most are crap 🙂 ), then a Shared hosting plan is an ok choice in the beginning, when you're just starting a WordPress website or blog. But if you'll start getting some serious traffic, it won't perform well.
Note that there are a few exceptions where hosting companies implement some Managed solutions to their Shared packages. The best example is SiteGround.
Managed
In most cases, Managed hosting relies on Cloud or VPS (Virtual Private Server) technologies, which are much better than Shared ones. Think of this type of hosting as living in a building but in your own apartment, without any roommates.
Normally, Managed web hosts also offer extra performance tweaks (e.g. built-in caching system, specific WordPress configuration) and services (e.g. security features, CDN, etc.), and also maintain the server for you.
Now, let's proceed to our list.
1. ReadyShip – 30-Day Free Trial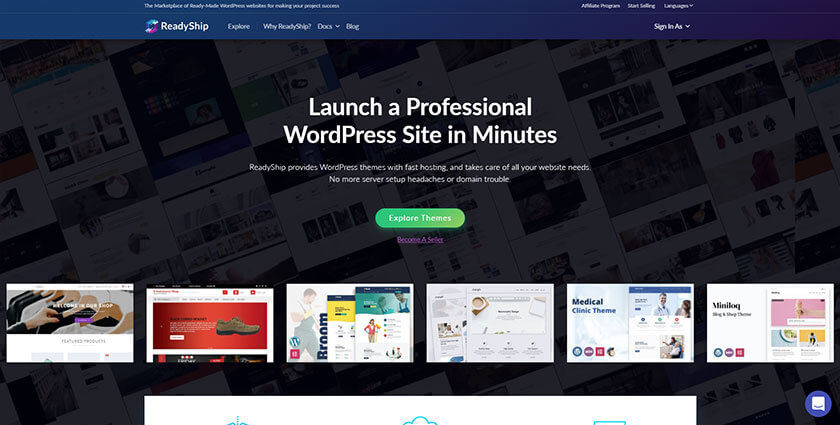 I'll start with the crème de la crème of this list, meaning the best of the best. 😀
ReadyShip offers Managed AWS (Amazon Web Services) WordPress hosting, AWS being a top Cloud hosting provider.
ReadyShip focuses solely on WordPress, so the servers are specifically optimized for it, not for every platform under the sun. This means improved performance for your site.
I'm also a seller on ReadyShip, which means that I create prebuilt WordPress sites and blogs for its marketplace. So, I can tell you from experience that creating WordPress sites is a smooth and fast process. There's no lagging, slow loading times, or server errors.
But you don't have to take my word for it. Choose a WordPress product from the marketplace and start your 30-day free trial with no credit card required.
ReadyShip is more than WordPress hosting
You might be confused about what I mentioned above, and you might be asking yourself "What do you mean you're a seller? And what marketplace with prebuilt WordPress sites and blogs?"
Let me explain.
ReadyShip is a different kind of animal. It offers great opportunities for WordPress developers or professionals, as well as for people who are seeking to launch their project using WordPress.
For WordPress Developers/Professionals
If you're a WordPress developer or professional who wants to generate recurring revenue, you can add your themes, or set up sites or blogs, then sell them on the WordPress marketplace.
The products can be created right on the ReadyShip platform. There's no need to have your own local environment (except when developing). All you need to do is to become a seller.
For customers looking for an all-in-one WordPress solution
As a buyer, when you choose one of the WordPress sites or blogs from the marketplace, you'll also get:
Managed AWS hosting;
Free SSL;
Free CDN;
A pre-installed WordPress theme with a design that's already set up;
Pre-installed and configured WordPress plugins.
This will drastically speed up the launching process because, basically, all you need to do is to change the content with your own.
2. Cloudways – 3-Day Free Trial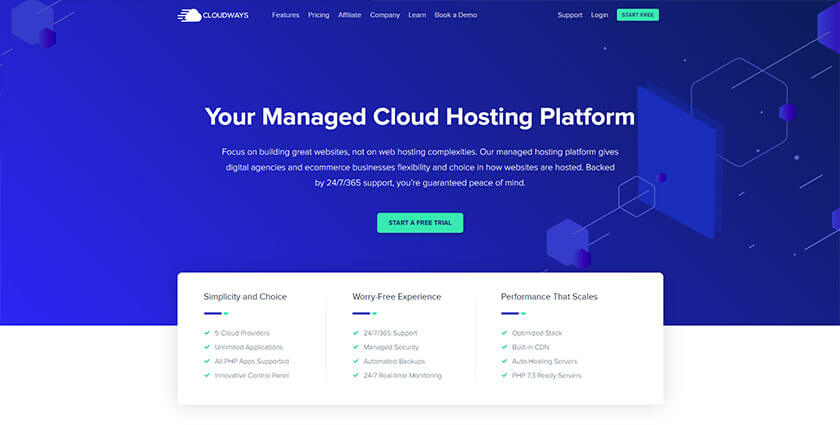 Cloudways offers Managed hosting, but it's not exactly a web host itself. It's more of a middleman that manages one of the Cloud providers that you choose: DigitalOcean, Linode, Vultr, AWS, or Google Cloud.
Using one of those providers directly requires at least a basic knowledge of System Administration. Cloudways handles that part for you, and offers a lot of settings and services that you can easily configure.
Cloudways has prebuilt server configurations for different platforms, including WordPress. So, your WordPress site will benefit from a specific setup that will improve its performance. They also have their own caching plugin called Breeze. This works best with their server-side caching system.
I've used Cloudways for many of my projects, so I can definitely recommend it as a good WordPress hosting solution. I'm still using it for my blog.
They only provide a 3-day free trial, though, which is not that much. A credit card is not required for the trial.
3. Flywheel – 14-Day Free Trial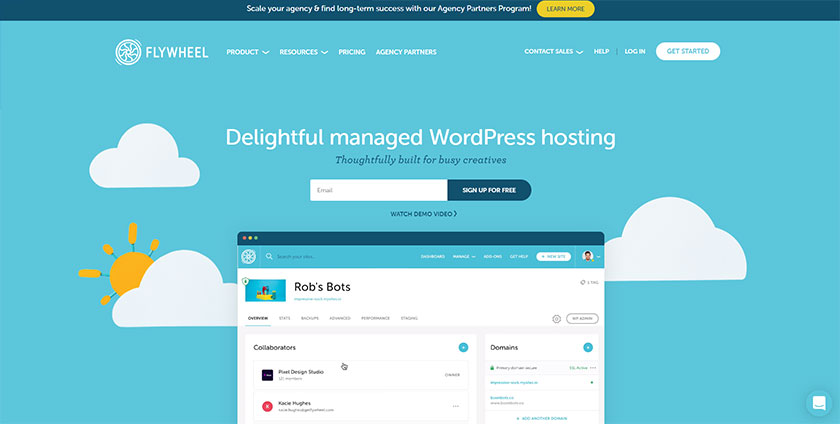 Flywheel is another well-regarded Managed WordPress hosting, which offers a 14-day free trial without a credit card requirement. In 2019, it was acquired by WP Engine, another Managed WordPress web host company.
I haven't personally tried it, but I did read good things about it.
Like the other two web hosts, Flywheel's services and servers are specifically tailored for WordPress, offering a well-configured environment for your site or blog. The support is also specialized in WordPress.
If you're a developer, you'll be happy to know that Flywheel also provides a free, awesome, and easy-to-use local development environment for WordPress. Use that to create an awesome WordPress theme, then become a seller on ReadyShip to generate recurring revenue. 😀
Looking for an All-in-One WordPress Solution?
ReadyShip offers you ready-made WordPress sites and blogs, plus high-quality managed AWS hosting with free SSL and CDN, at no initial cost!
4. Nestify – 7-Day Free Trial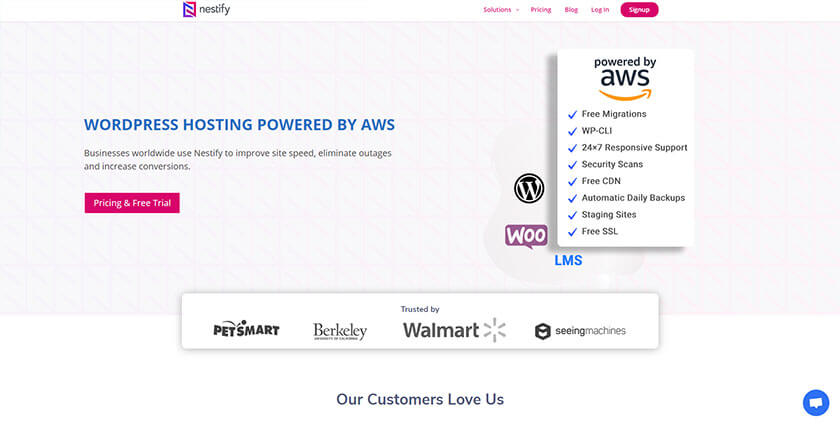 Next on my list is Nestify, which provides – you guessed – Managed WordPress hosting. They offer a 7-day free trial to test things out, without requiring a credit card.
I haven't tested them until now, but I see that they're using AWS Cloud as their provider, so that's definitely a strong point. They're also offering services exclusively for WordPress.
They're pretty similar to Cloudways, but don't have that many options as them.
5. AccuWeb – Lifetime Free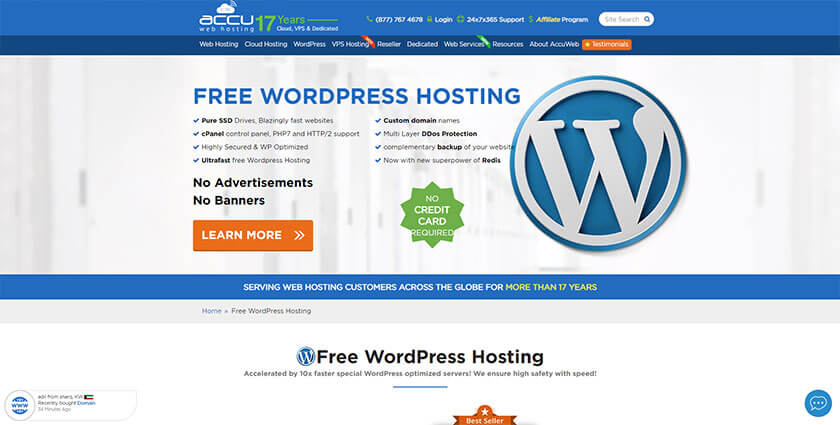 We're changing the "scenery" now with a Shared WordPress hosting provided by AccuWeb. What's different about it is that:
They offer a lifetime free WordPress hosting package with no credit card required. They also mention that they won't add ads or banners, which is good;
They seem to use Windows servers, which is quite unusual for a WordPress environment.
This is a good choice if you're completely new to WordPress and want to take your time, check things out, play around, and get used to it.
6. Exclusive – 30-Day Free Trial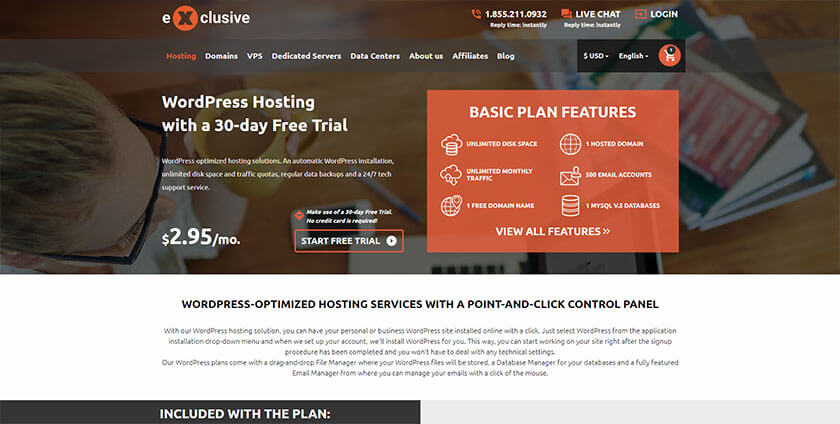 Exclusive is a standard Shared WordPress hosting. Even though they've been around since 2004, according to their copyright date, I've never heard of them until now. That's weird.
One thing that's different about it is that it uses a control panel named Hepsia. Normally, Shared web hosts use cPanel. I'm not saying that it's bad. I'm just pointing out that it's uncommon.
They also mention that their web hosting is optimized for WordPress, which is good. You can test that for yourself if you sign up for their 30-day trial – no credit card required.
Note: If you'll sign up, you'll see a Payment tab and a price, but it won't actually process any payment nor ask for a credit card. It will ignore that part and will start your trial. At least that's how it was when I checked things out.
7. WP Clusters – 30-Day Free Trial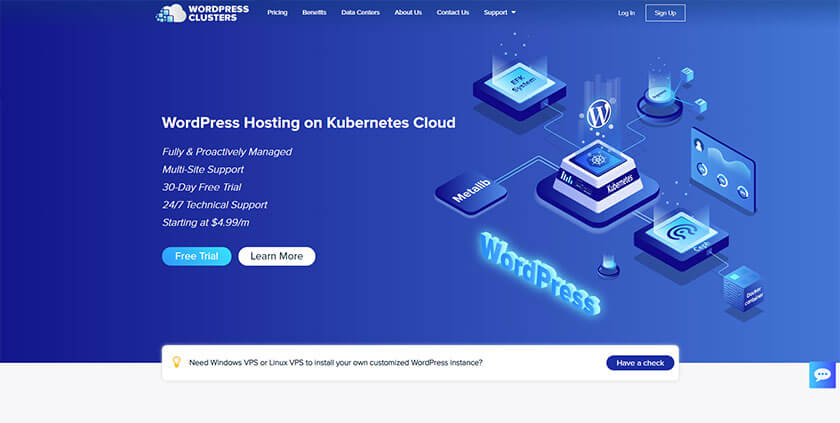 WP Clusters is a different Managed WordPress hosting because it uses Kubernetes, which is a system invented by Google.
I've heard quite a lot about Kubernetes lately, but I never dug deeper to find out more. I do know that they're one of the trending systems in Cloud hosting right now. If you have time to spare, you can read more about it.
Usually, Managed WordPress hosting is more expensive, but WP Clusters has low prices, starting at $4.99/month. So, it won't break the bank if you want to keep using it after the 30-day free trial period (no credit card required).
WP Clusters is also focusing solely on WordPress, so this should mean that the setup is tailored for it, delivering improved performance and stability. I haven't tested it myself, so I can't vouch for anything. But that's what the free trials are for, no? To test things out.
Looking to Buy or Sell WordPress Sites?
At ReadyShip, we offer an all-in-one WordPress solution for those looking to start a blog or site, as well as the opportunity for WordPress developers or professionals to sell their products!
The End
As you can see, there are quite a few options that you have at your disposal. Take your time and check them out to see which one performs best and is a good fit for your needs and project.
If you know other WordPress hosting companies with free trials and no credit card required, feel free to leave a comment. Or, if some of the web hosts mentioned here change something regarding their trial, let me know so I can update the post.