There's no doubt that ThemeForest, which is part of Envato, is the biggest marketplace for WordPress themes. It currently holds over 11,000 items, and it doesn't show signs of stopping. Recently, Envato has also reached $1 billion (yes, billion) dollars in community earnings.
Selling your WordPress theme on any marketplace comes with pros and cons, but Envato's policies and recent projects seem to pile up the cons lately, making more and more developers look for ThemeForest alternatives.
The latest complaints from some sellers are toward Envato Elements, which is Envato's subscription service. They believe that Envato has shifted its focus toward its subscription service, leaving marketplaces, such as ThemeForest, behind.
For example, they don't like the fact that banners promoting Envato Elements appear on their ThemeForest product page. They believe that buyers opt for the subscription service instead of their WordPress themes.
There's clearly a bit of a riot going on inside the Envato community lately. Thus, understandably, some of you might want to look for ThemeForest alternatives in order to sell your WordPress themes.
Let's see what reliable options you have.
1. ReadyShip – A Different Kind of WordPress Marketplace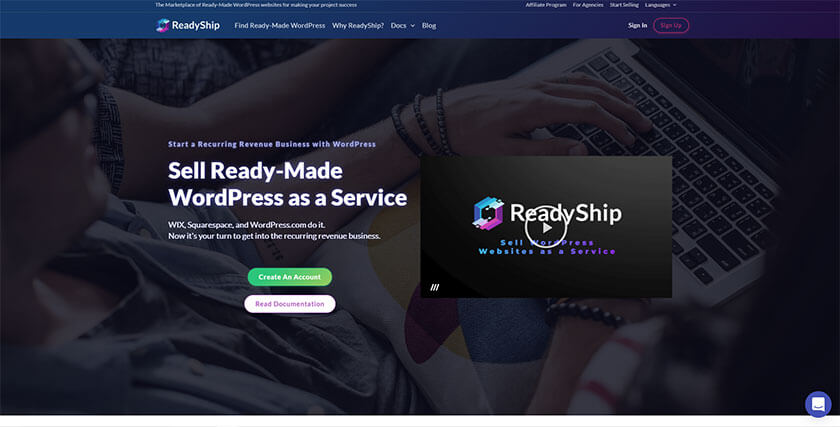 ReadyShip is a WordPress marketplace that offers WordPress developers and professionals the simplest way to earn recurring revenue.
You can simply add your WordPress theme to the marketplace, or you can go further by creating a turnkey WordPress website or blog, offering customers a truly all-in-one solution, which is a pretty irresistible offer, especially for beginners.
Since I'm also a seller on ReadyShip, I can give you more details.
Clients get more than a WordPress theme
When clients choose your product, they also get:
Managed AWS hosting with free SSL and CDN, which is handled by ReadyShip, not you;
WordPress pre-installed;
Your theme pre-installed, along with uploads, settings, and everything.
Additionally, you can also install plugins that you think are useful for your WordPress theme and clients. The plugins will also get cloned when the client subscribes to the plan.
I recommend adding useful and necessary plugins because:
The clients won't get frustrated because they don't know how to add a contact form, a cookie pop-up, etc. This improves the clients' experience, making them less likely to rage-quit the subscription; 😀
You have control over what plugins are being installed. That way, there are fewer chances for the client to install poor-quality ones, breaking the site or compromising the security, then blaming it on your WordPress theme.
So, ReadyShip allows you to offer clients an all-in-one WordPress solution with a few clicks:
Good hosting;
WordPress;
Theme;
Plugins.
ReadyShip handles the setup – No domain, hosting, or local environment needed
When you create a product on ReadyShip, WordPress will automatically be installed on a development subdomain so you can add your theme, plugins, and everything else that's needed.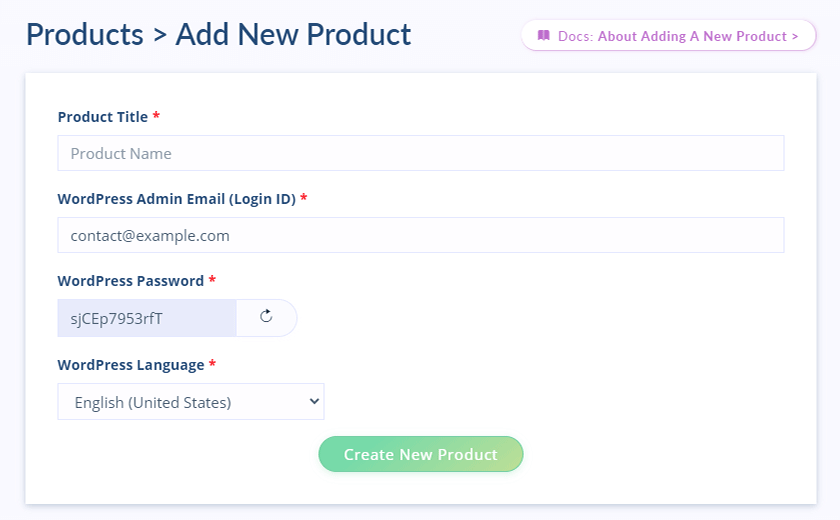 So, you don't need to worry about having your own local WordPress setup environment, then upload everything over FTP or something like that.
That subdomain will also be used for the demo preview. You don't have to buy a domain and hosting to upload the WordPress website in order for the preview to work.
What price you set, you get – No commission
ReadyShip allows you to add your own prices starting at $24/month. You can also have multiple groups with different plans.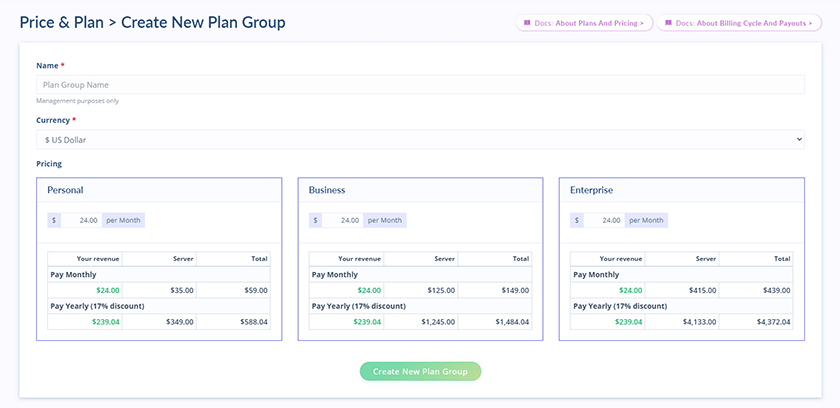 But here's what's different about ReadyShip. It doesn't take a cut from your price! For example, if you want to get $30/month from the Personal plan, then the plan's pricing will be $65/month because the server cost is a flat $35/month. If you want $40/month, then the plan's pricing will be $75/month.
So, you won't set a price and only get a commission, as it happens on most, if not all, marketplaces.
Get your money without hassle – No minimum amount required
On ReadyShip, you get paid by simply adding your PayPal email address into your account.

And another good news is that there's no threshold! You don't have to make a certain amount to get paid.
No exclusivity – Sell everywhere
There's no exclusivity to lock you in on ReadyShip! You can sell your WordPress theme on other places without affecting your income on ReadyShip, or violating any terms that might get your account removed.
Start Selling on ReadyShip Today!
Launch your WordPress product with one-click, offer your customers an all-in-one solution, and start generating recurring revenue!
2. TemplateMonster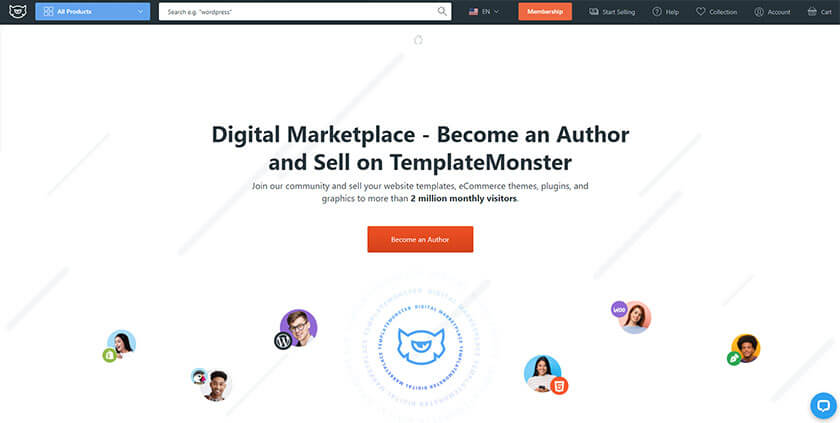 TemplateMonster is a good ThemeForest alternative. It's a pretty big marketplace, founded all the way back in 2002. According to their stats, it has:
5M buyers;
1,640 authors;
46,876 products – 2,451 being WordPress themes.
I've worked with them a bit as an affiliate, a couple of years ago. They're nice, helpful, and active. And they have good marketing.
I also submitted an Elementor-based website for review, but it got rejected because the design didn't meet their marketing requirements 🙂 . They want flashy stuff. But you're probably used to that, since ThemeForest is all about flashy WordPress themes as well.
The application process was simple, and I got a reply in several days. I've read that, on ThemeForest, the theme review process can take weeks in some cases.
You can set your own price on TemplateMonster, but they take a percentage from it, which isn't a surprise. If you sell exclusively, you can get up to 65%.
There's also a threshold in place. If you want to get paid on PayPal or Payoneer, you need to have at least $100 in your account's balance. If you opt for Wire Transfer, you need to have at least $600.
3. Creative Market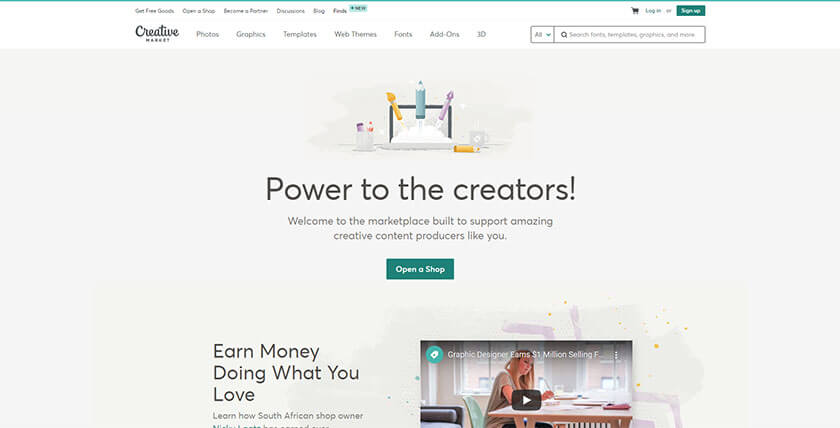 Creative Market is another big marketplace with over 5M products, 7.4M members, and 31,000 shops (sellers, basically).
While Creative Market is not that known for its WordPress themes, it's still a good and reliable ThemeForest alternative. And it has over 3,400 WordPress themes, which is more than TemplateMonster.
Here are several interesting things that make Creative Market stand out from your standard marketplaces:
No exclusivity lock-in – You can sell your WordPress themes anywhere without affecting your income on Creative Market;
No per-product approval – Your products go live instantly;
You keep 60% of each sale unless you're subject to some tax withholdings.
Bonus: Mojo Marketplace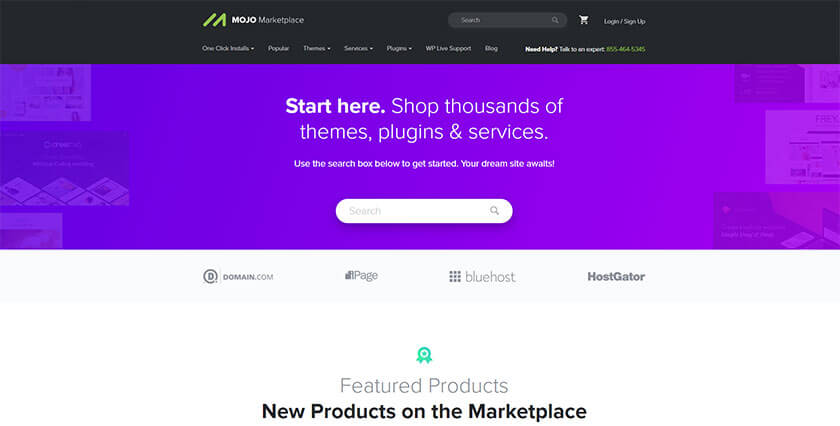 Because I have the word "Reliable" in the post's title, I didn't add Mojo Marketplace to the actual list. I added it as a bonus.
That's because it kind of looks like a ghost town. The blog is dead, the Twitter account is dead, the Facebook account is dead… Maybe it's because they're part of EIG, and I've noticed that everything they touch dies.
So, be careful. You might want to shoot them a mail or something to see if anyone's home. If they are still active, then they might be a good ThemeForest alternative, especially since Bluehost launched a marketplace based on the WordPress themes from Mojo Marketplace.
Bluehost is also part of EIG, and it's still used by a lot of WordPress users as a hosting solution.
According to their seller's guide, you can earn up to 70% commission if you sell your WordPress themes exclusively on their marketplace. Otherwise, your commission is stuck at 50%, no matter how much you sell.
They also have a payment threshold: $50 minimum for PayPal and over $1000 for Wire Transfer.
Start Selling on ReadyShip Today!
Launch your WordPress product with one-click, offer your customers an all-in-one solution, and start generating recurring revenue!
The End
These are the ThemeForest alternatives for selling WordPress themes. At least the reliable ones. Hopefully, one of them will be suitable for you, and it will help you earn some well-deserved money.
If you happen to know more marketplaces, feel free to mention them in a comment below.
If you have questions about the ReadyShip marketplace, feel free to contact the team. They're friendly and helpful.