So, you decided to create a website for your business, or a personal blog. You did some research, and WordPress popped up as the most recommended platform.
Well, that's not a surprise because WordPress powers over 41% of all websites. That's huge!
You've also probably read that WordPress is easy to use, which is kind of true… The thing is that it becomes easy once you get the hang of it. Being a very flexible platform, there's a lot to learn, and it can become overwhelming quickly for a beginner, causing quite a bit of frustration.
That frustration can appear right at the very beginning when you're wondering what things do you need to set up your first WordPress site or blog. Where do you start?
I noticed that with my clients when I was offering WordPress services. They knew about WordPress as a platform, but they didn't know what they needed to get started. Most didn't know anything about websites in general, let alone WordPress.
So, in this guide, I'll write about the basic, necessary things that you need to set up a WordPress site or blog. I'll also provide some tips and recommendations because it's very easy to make the wrong choices and create a WordPress website or blog with a slow loading time and poor performance. It's important to start the right way.
Let's start!
1. Domain Name
The first thing you need is a domain, which is basically the name of your WordPress site or blog (e.g. example.com). Think of it as your home address.
Without a domain name, a website's address would consist of an IP, like 192.123.456. That isn't ideal, right? You can remember names easily, but not a bunch of numbers made out of 9 digits.
A typical domain name consists of two parts:
SLD (Second-Level Domain) – This is the text that's to the left of the dot. For example, readyship, in the readyship.co domain;
TLD (Top-Level Domain) – This consists of the text or string of letters that are to the right of the dot. For example, com, org, blog, company, finance, and so on. Unlike the SLD, you can't create a TLD. You have to choose one that already exists and is available. TLDs break into different categories. Here are the most common ones:

ccTLD (Country Code Top-Level Domain) – These should be used when your WordPress website or blog is for an audience from a specific country. For example, if you have a blog that's only for French readers, then you should get a .fr ccTLD. If it's only for U.K. readers, then you should get a .uk ccTLD;
gTLD (Generic Top-Level Domain) – TLDs such as .com, .org, .net are considered generic. They are not specific to an entity. You can use them for whatever;
sTLD (Sponsored Top-Level Domain) – These TLDs are for different types of communities. For example, government websites usually use the .gov extension. Some education institutions use .edu. Not anyone can register an sTLD. Only those types of communities can.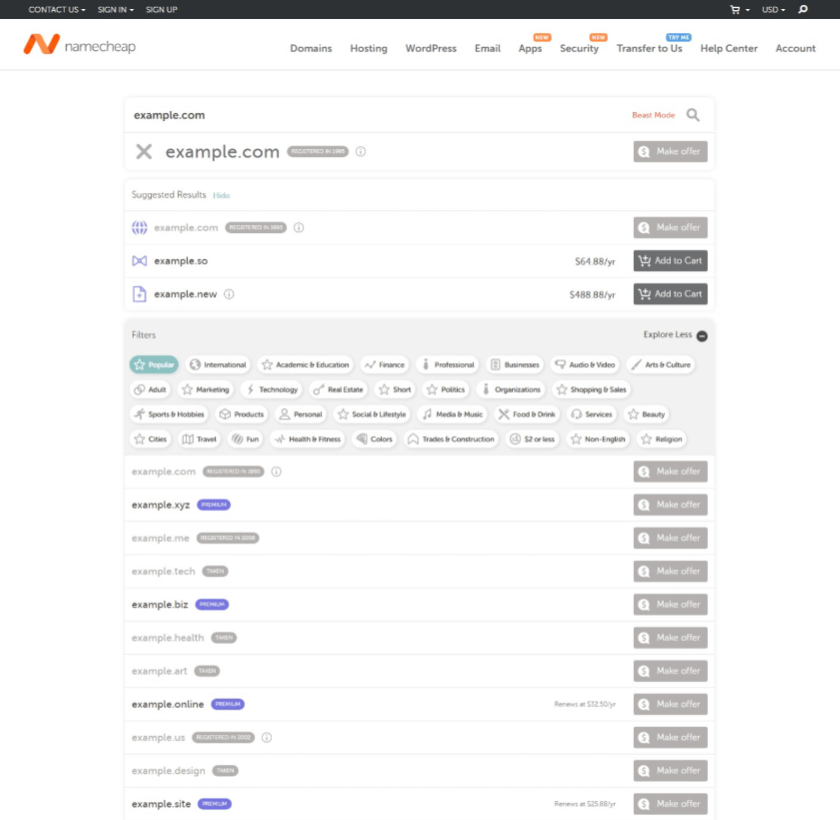 You can register a domain with a registrar or your hosting company if they are also certified as registrars.
Registering a domain name with a registrar
Certain companies are certified and specialized in domain reservations. They are called Registrars. There are plenty of them, such as Namecheap, GoDaddy, Porkbun, etc.
Some are cheap, some are more expensive. Some offer Whois privacy for free, some don't. Whois privacy allows you to hide your personal information in the Whois database.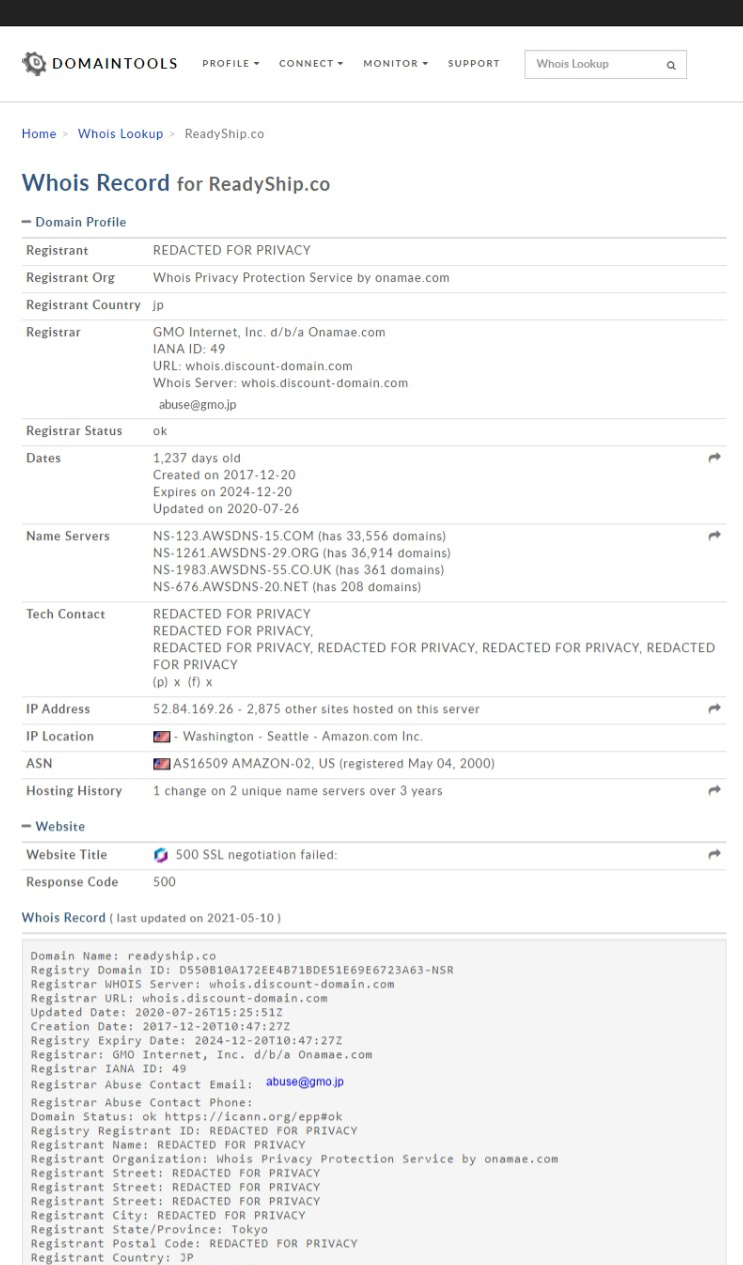 My favorite is Namecheap because the domains are inexpensive, the platform is solid, and the user experience is good. They also offer free-for-life Whois privacy, so you can save even more money.
Porkbun is a hidden gem that I found recently. In some cases, the domains there are even cheaper than Namecheap's. They also offer free Whois privacy. I haven't gotten the chance to try them yet, though, but they are well-regarded from what I've seen.
Let's see the pros and cons of buying a domain name from a domain registrar.
Pros:
The domains are cheaper;
Depending on the registrar, you can get free Whois privacy, thus saving more money;
It's easier to transfer your domain;
It's easier to manage multiple domains in one place.
Cons:
Extra configuration steps, such as pointing your domain to your web host by changing the DNS (Domain Name Servers);
You have to deal with two different companies.
Registering a domain name with your hosting company
Some hosting companies are also eligible to register domains. Of course, there are pros and cons here, too.
Pros:
You have both your hosting plan and domain under one roof;
No extra configuration steps;
You only have to deal with one company.
Cons:
Higher prices;
Usually, Whois privacy is not offered for free;
It's harder to transfer your domain;
Harder to manage multiple domains.
Normally, I recommend keeping your domain and WordPress hosting separately. But, if you don't mind spending more, if you like the idea of killing two birds with one stone, and if you want to have both things under one roof, then this option might be more convenient for you.
Looking to Buy or Sell WordPress Sites?
At ReadyShip, we offer an all-in-one WordPress solution for those looking to start a blog or site, as well as the opportunity for WordPress developers or professionals to sell their products!
2. WordPress Hosting
The WordPress optimization starts from the ground up. So, choosing a good hosting for your WordPress site or blog is vital.
If you choose a bad one, you can have the most optimized WordPress site or blog in the world, and it wouldn't matter. A crappy hosting will always drag down the performance.
So:
Make sure you choose a company that specializes in WordPress hosting, or at least has good knowledge of it. If they don't even have WordPress mentioned on their website, then run Forrest, run!
If you're not on a budget, avoid Shared hosting plans. Go for Managed ones based on Cloud, VPS, or Dedicated infrastructure. The Cloud ones are the most popular and affordable.
Avoid cheap web hosts. In most cases, in the web host industry, cheap plans mean cheap service. $3/month sounds great, but when your web page will load in 5 seconds before even adding serious content on it, it won't feel so great anymore.
There are a ton of companies out there offering WordPress hosting. Most of them are garbage but have good marketing.
There are also a ton of affiliates who will recommend that garbage just because it offers a higher commission.
Thus, since you're a beginner, it will be hard not to make a mistake. I know I did when I first began working with WordPress.
So, to make your life easier, and save you time, money, and future headaches, here are some legit, non-affiliated recommendations:
If I were to choose one for you, I'd say Kinsta, but you should be ready to pay more.
I need to mention ReadyShip, too. It's not on that list because it's not just WordPress hosting. It offers more than that. It offers turnkey WordPress websites and blogs, so you can get virtually everything with a few clicks:
I recommend that you check out the marketplace with ready-made WordPress websites and blogs. Perhaps you find something that you like. And you don't need to pay upfront because you get a 30-day free trial with no credit card required. You have nothing to lose. 😀
Speaking of free trials, here's a list of several WordPress hosting companies that offer free trials with no credit card required. It might interest you.
3. SSL Certificate
An SSL (Secure Sockets Layer) certificate is also very important for both security and SEO (Search Engine Optimization). Google implemented it as a ranking factor back in 2014.
An SSL certificate allows your domain to be served over HTTPS, instead of HTTP. So, the domain will look like this https://example.com, not like this http://example.com.
Now, many web hosts have started to automatically install an SSL certificate for free, thanks to the Let's Encrypt project. Others only offer premium SSL certificates that you need to buy and install.
So, after you set up your domain and hosting, check to see if your domain works when adding it with the https:// version in your browser's address bar.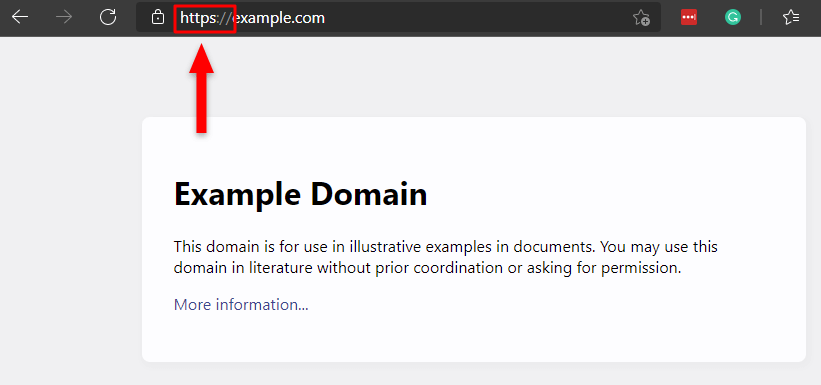 If you get any errors, you might be lacking an SSL certificate, or it might not be installed properly. I recommend contacting your hosting company's support team to ask for help.
Once the SSL certificate is properly installed, then you can proceed with installing WordPress on your domain, on the HTTPS version.
Switching to HTTPS after installing WordPress and adding content can be pretty annoying, especially if you're a beginner.
Looking for an All-in-One WordPress Solution?
ReadyShip offers you ready-made WordPress sites and blogs, plus high-quality managed AWS hosting with free SSL and CDN, at no initial cost!
4. WordPress
After you've set up your domain, hosting plan, and SSL certificate, you need to install WordPress. Virtually all WordPress web hosts have a tool that allows you to install WordPress automatically.
Managed web hosts usually have their own tools, while Shared ones rely on cPanel (a common server control panel), which usually comes with an app called Softaculous. I've written a step-by-step tutorial on how to install WordPress using Softaculous.
Also, here's a useful guide with important things to do right after installing WordPress.
5. WordPress Theme
After the hosting, the WordPress theme is the second vital part when it comes to performance and loading time. A heavy or poorly developed WordPress theme can negatively impact your website's or blog's performance.
So, it's crucial to choose the right WordPress theme for your site or blog. And yes, it's mandatory to have a theme installed and activated. WordPress doesn't work without one.
There are tens of thousands of WordPress themes out there. Some are good, most are bad, some are free, and some are premium.
When it comes to free vs premium WordPress themes, I recommend going with a premium one, even though there are several good free WordPress themes. You should never use nulled WordPress themes because it's not safe.
Now, even though there are plenty of WordPress themes, just a few are good when it comes to optimization and performance.
And, as I also mentioned for web hosts, you'll find a lot of blogs recommending all sorts of WordPress themes because they are affiliated or because there are certain keywords that bring traffic.
So, since it's very easy to make a mistake when choosing a WordPress theme, as I did in my WordPress beginnings, I'll make your life easier by recommending some goodies:
GeneratePress – The theme is free and good. The premium version consists of a plugin called GP Premium. You can use this WordPress theme for a blog or different types of websites, including online stores. It works great with the GenerateBlocks plugin, which is a light page builder.
StudioPress – They offer different light and optimized themes that are based on the popular Genesis Framework. If you choose WP Engine as your WordPress hosting, you'll get them for free.
WooCommerce Themes – WooCommerce is the most popular WordPress plugin for creating an online store. So, for maximum compatibility, I recommend using one of their themes when using the WooCommerce plugin.
To be honest, you don't need to look further, but as a bonus, I'll mention a couple more:
Astra – Free WordPress theme with a premium plugin.
6. WordPress Plugins (Optional)
WordPress plugins are not mandatory unless your theme requires some. Regardless, you'll most likely use some for SEO, security, contact forms, ad placement, etc.
There are tons of plugins, most of them with free versions that you can find in the official WordPress repository. You shouldn't download plugins from unofficial sources because they can contain malware. You shouldn't use nulled WordPress plugins as well, because they're not safe.
It's important to use as few plugins as possible because:
They can contain security vulnerabilities;
They can affect performance and loading time;
They can create conflicts, breaking your website or blog.
By having fewer WordPress plugins, you drastically reduce the chances of something bad happening. So, only install plugins that you really need.
Here's a useful step-by-step tutorial where I show you how to install a plugin in WordPress using 4 different methods. And here's a list of free and essential WordPress plugins.
Looking for an All-in-One WordPress Solution?
ReadyShip offers you ready-made WordPress sites and blogs, plus high-quality managed AWS hosting with free SSL and CDN, at no initial cost!
The End
This is the foundation that you need to set up your WordPress site or blog. Make sure it's a solid and optimized foundation by making the right choices, as I mentioned in the guide. It's always better to start the right way, rather than losing time fixing things later.
Next, you can start building your pages, adding content, and implementing whatever functionalities you might need using plugins.
Keep in mind that the content also needs to be optimized, mainly the images. I've put together a detailed guide on how to optimize images for WordPress. You should definitely check it out.
If you have questions or thoughts, feel free to drop a comment.